NTPC Opens Innovation Contest to manage its Ash ponds
The theme of the contest is: "To achieve 100% Ash Utilization on a sustainable basis "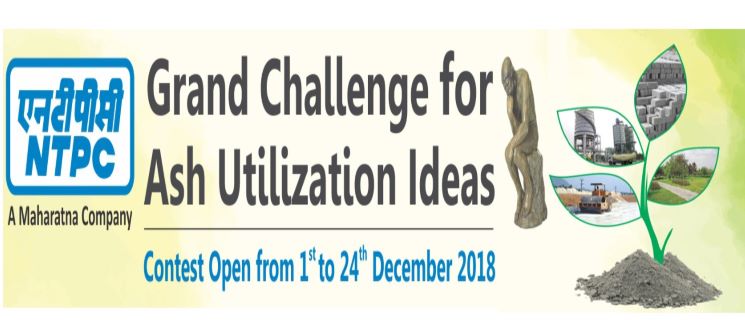 Going back to young innovators to find answers to a  festering problem, The National Thermal Power Corporation or NTPC is looking for ideas to achieve 100 percent ash utilization on a sustainable basis.
NTPC is organizing a pan-India level competition to find out innovative methods/ ideas which will be commercially viable and practically implementable for achieving 100 percent ash utilization at NTPC in an environmental-friendly manner, according to the official statement.
The competition is open to all Individuals/ Teams/ NGOs/ Professionals/ Researchers/ Scientists/ Institutes/ Organizations/ Business Schools/ Startups etc.
Interested contestants can register without any charges for participation. Winners will be awarded the 1st prize – Rs 5 lakh, 2nd prize – Rs 3 lakh, 3rd prize – Rs 2 lakh and Consolation prizes of Rs 1 lakh each for maximum two entries. The competition is open from December 1 to 24, 2018. The results will be announced by or on 15 January 2019. Interested candidates can register here.
NTPC Limited is India's largest power utility which at present has a total installed capacity of 52,946 MW. NTPC is currently producing more than 60 Million Tonnes of ash from its own operating coal-based power stations each year.  This competition is aimed at solving the fly-ash problems which cause the PM levels of air to increase, a serious indicator of air pollution. According to one estimate, a 500MW thermal Plant produces 500T of fly ash which later pollutes the surrounding areas. This is collected by electrostatic precipitators and stored. In Developed countries like Germany, 80% of the fly ash is utilized whereas in India only 3% is being consumed. Rest of the ash is disposed of in Ash ponds in the form of a slurry which requires huge tracts of land in and around thermal plants or landfill sites. In the process, not only taking up area, but making it both unfit for future use, as well as impacting groundwater and more. In effect, an environmental disaster that is completely unsustainable now, with high populations near thermal plants too.  In fact, the company's Badarpur Thermal Plant neighbouring Delhi was shut down was this, among other reasons.
Thus disposal of the increasing amounts of solid waste from coal-fired thermal power plants is fast becoming a serious concern to the environmentalists as well as Power utilities working in the energy sector. Globally, the most popular method to utilise fly ash has been its use in construction, where it is used to blend with cement. Almost 50% of concrete in the US, for instance, has been blended with fly ash.  Of course, there are different grades of fly ash, so benefits and extent of blending varies. In India, readers might have seen them being used in hollow bricks, being used by the construction industry. But clearly, much more needs to be done to make the ever growing pile of fly ash a manageable hazard.  Your ideas could win you some cash too, so don't hold back!
(Visited 588 times, 1 visits today)