Tamil Nadu Unveils New Solar Policy, Sets 9 GW Target by 2023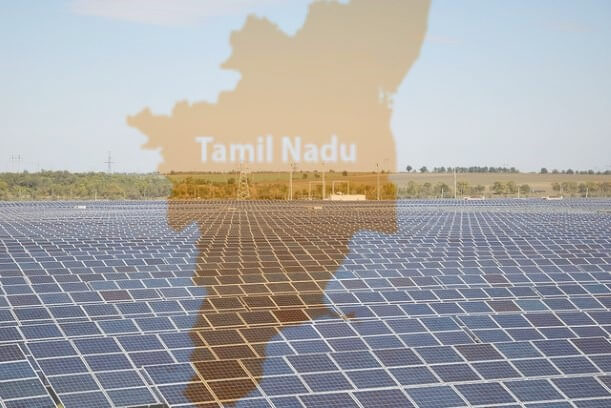 Tamil Nadu government has released its new Solar energy policy which aims to generate 9,000 MW for the State by 2022-23.
The latest policy is the revision from its earlier policy that was released in 2012 and had a target of 3000 MW or 3 GW of installed capacity by 2015. The latest policy, called as Vision Tamil Nadu 2023 includes a solar target of 5000MW with MNRE Solar 2022 targets.
However, it is important to note that the state has achieved a mere 2,200MW as of March 2018. The capacity translates roughly to about 10% of the country's total capacity installed in the solar sector.
"Under the new solar policy 2019, necessary provisions have been made to attain a target of 9,000 MW, net feed-in facility for low tension (LT) customers and measures to create jobs in the solar energy sectors have also been identified," the release said. The government plans to encourage farmers to use solar power.
Challenges:
Tamil Nadu has been adding 400MW/Year of solar capacity for last 5 years.
It needs to add an additional 6,800MW in the next 4 Years
Rooftop solar sector has not taken off in the state and authorities are keen for large scale projects. Therefore, renewed focus on solar both in Utility level and consumer level adoption of Solar is needed
Rooftop capacity
The new policy was released this Monday and comes at a time when Tamil Nadu has lost its leadership position in rooftop solar capacity. With an installed capacity of 473 MW (as on September 30, 2018) in rooftop solar segment, Maharashtra has emerged the leader in this segment, pushing Tamil Nadu to the second position with an installed capacity of 312 MW, according to Bridge to India report.
The policy hopes to create a framework that will help accelerate the development of solar installations in the State, promoting both utility category and consumer category solar energy generation through various enabling mechanisms.
About 40 percent of the target (9,000 MW) is earmarked for consumer category solar energy systems, said the policy document. This means 3,600MW is the target will be applicable to projects and installations relating to solar photovoltaic (solar PV) and solar thermal energy and to both utility and consumer category systems. This is a tall order given its previous track.
The new policy became effective from February 4, 2019.
Incentives:
Consumer category solar power will be exempted from electricity tax for two years.
Incentives will also be provided to promote solar energy in the agriculture sector like co-utilisation of land in the agricultural sector.
The State government will also promote the manufacture of solar power components including cells, inverters, batteries etc.
Tamil Nadu Energy Development Agency (TEDA) will facilitate and expedite access to various concessions and incentives provided by Union Ministry of New and Renewable Energy.
Pioneer in renewables
A 2018 report lists Tamil Nadu as one of the top nine renewable energy markets in the world. Today, 14.3 percent of all the energy demand in the state is met by renewable energy, primarily solar and wind.
Tamil Nadu has the highest installed capacity of more than 11,000 MW in the renewable energy sector with wind energy, where it leads the country, accounting for more than 8,200 MW. The State has huge potential for solar energy with around 300 clear sunny days in a year. With new policies and incentives, the state government is trying to solve persistent load shedding by the Tamil Nadu Generation and Distribution Corporation Limited (TANGEDCO) which has been a huge problem for the local industry.
(Visited 638 times, 1 visits today)