Maharashtra Discom MSEDCL's Innovative Hybrid solar tender
Maharashtra has come forward with a one of a kind hybrid tender; it has given the option to companies for developing the capacity they want to bid for.
RFS FOR GRID-CONNECTED WIND-SOLAR HYBRID POWER PROJECTS AT IDENTIFIED SITES
The Maharashtra State Electricity Distribution Company Limited or MSEDCL issued a unique wind-solar hybrid tender which gives the developers freedom in project development. The state Discom has set ₹2.75 as the tariff ceiling. The bid-submission deadline is February 1, 2019.
For this project, the MSEDCL will conduct a two-stage tendering process. According to the RfS, " The minimum capacity to be quoted in the first stage shall be 100 MW. Maximum capacity quoted by any of the bidder will be seized as the Bid Capacity for all the eligible bidders for the Second Stage. The bidder(s) quoting the lowest capacity in Stage- 1 of the bidding process shall be eliminated after the first stage and shall not be allowed to participate in the further stages of the bidding process. All the Bidders qualifying in the first stage will be eligible for the second stage."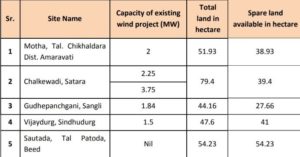 The interested companies can submit their bids and the capacity they want to develop. For this Maharashtra has identified 277.32 hectares of land for the development of these wind-solar hybrid projects. The land is owned by the Maharashtra Energy Development Agency (MEDA). The MSEDCL will enter 25-year long power purchase agreements (PPAs) with the successful bidders.
The successful bidder is free to avail fiscal incentives like Accelerated Depreciation, Concessional Customs and Excise Duties, Tax Holidays, benefits from trading of carbon credits.
MSEDCL plans to develop solar power projects of 7,500 MW capacity, of which, 2,500 MW capacity projects will be developed by the state generation company through the public-private partnership mode.
The Maharashtra Electricity Regulatory Commission (MERC) has granted approval to Maharashtra State Electricity Distribution Company Limited (MSEDCL) for the proposal to procure power from wind-solar hybrid projects through a competitive bidding process.
(Visited 169 times, 1 visits today)